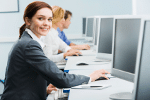 When applying for an administrative position, such as an administrative assistant, you must express that you are dependable, have good communication skills (written and oral), are familiar with technology and know the ins and outs of working in an office environment. Depending on where you apply, your knowledge of certain sectors can be a great asset. For instance, if you are applying to work in a law firm, previous experience working in a legal setting is definitely a plus.
If, in addition to your day-to-day responsibilities, you spearheaded projects or took specific initiatives, state them if they are relevant:
You may want to state some of the responsibilities that you held in your previous roles, especially if they cross different functions such as accounting, legal or marketing. For example, you may discuss your role in keeping track of department expenses, coordinating professional development or helping create marketing content such as press releases or executive bios.
You may underline particular processes you improved or efficiencies you created in the workplace through your own initiative, such as coming up with a new electronic document filing system or building new templates for recurring functions.
People in administrative positions are often required to deal with a variety of people. Your ability to work as part of a team is essential. Detail the communication lines you kept open, such as your role acting as the interface between various departments. Any creative ways you established for bringing good communication to the workplace should be highlighted. You may also emphasize your ability to work under pressure in stressful environments or your ability to deal with difficult people.
We hope that these tips will help you improve your administrative cover letter. If you have additional tips that you would like to share, please let us know!
Administrative cover letter samples:
Administrative resume samples: