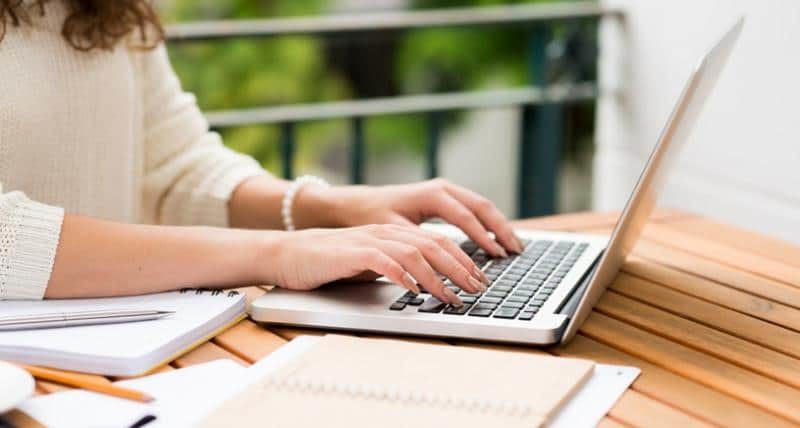 The cover letter format has evolved significantly in recent years. Traditionally, a cover letter was delivered with a resume in a typed, hard copy format. This still happens on occasion, but recently, a cover letter is often an email in which you attach your resume or a box you have to fill in on an application form. Be sure to recognize that any introductory communication, whether electronic, or hard copy, is still a cover letter.
Keep Your Cover Letter Format Simple and Concise
Cover letters used to be lengthy, and were more akin to an essay. Today, the average recruiter doesn't have the time to read through an essay. The only positions that tend to still follow the lengthy cover letter format are executive or higher level positions. Recruiters and managers have thirty people behind you in line, and need to get through all the applicants and choose the right one. Unless you are lucky enough to be the top resume in the pile, they begin to tune out to anything requiring excessive reading. Therefore, your cover letter format should be short and sweet.
The Header, and a Few More Details…
Cover letters should follow the format of a traditional letter. You should always have your contact information displayed at the top of the page, and it's best practice to give two forms of communication – generally email and phone. You should have a "To" section with the address of the company, and the recruiter's name, if you know it.  The letter should begin with either the recruiter's or hiring individual's name after "Dear", or where the name is unknown, "To Whom It May Concern".
The First Part of the Cover Letter, the Opening Statement
Your opening statement should state why you are applying. Usually it is good practice to mention where you saw or heard about the job opportunity (i.e. a job site, or you were referred by a friend) in the opening line. For example, you may want to say "I heard about the position from a good friend, and I am applying because my qualifications are a perfect match for this opportunity." Your opener should be strong and confident.
Your second line should be one sentence summing up your strongest abilities and telling the reader about you. You will want to tailor this line depending on the type of job. For example, if you are applying for a manager position in a design department, you may want to say "I am a seasoned professional in the design sphere with excellent managerial skills and a talent for creating memorable campaigns." If you are writing a cover letter for a marketing manager position, you may want to shift your focus by stating "I am a seasoned professional in the marketing sphere with excellent managerial skills and a talent for growing revenue." Always make sure your "defining sentence" is unique and tailored to each position you apply to.
The Middle Part of the Cover Letter, Connecting the Dots
Lines three through six should relate your qualifications to the needs of the job description. A mistake people make is copying over sentences directly from their resume. The point of the cover letter is not to summarize your resume, it is to enhance your resume. You may want to show your skills in another light, or highlight a previous experience that can't be found on your resume. This is especially important if you are shifting industries or seeking a higher title.
The Cover Letter Closing: Ending on a Strong Note
Your closing statement should be a call to action. You want them to interview you, you want them to call you to discuss the position, or you want them to contact you for further information. Whatever your call to action is, be sure it is clearly and boldly stated.
If you are submitting additional materials, it is best practice to list out all materials you are providing including your resume, portfolio, references, etc. The reason for this is two-fold. You want to ensure the individual has received all relevant information in order to accurately consider you for the position. In today's busy offices, it is quite easy to misplace a document. Also, you want to show how detail-oriented you are and how well you manage expectations by letting the recipient know exactly what they are getting from you.
Your salutation should be positive, polite and confident. Thank the individual for their time, and let them know you are looking forward to hearing from them, speaking with them, meeting them, etc. Make sure your salutation doesn't go on for over two sentences, as you want to end your cover letter with a bang, not a bore.
Some Formatting Remarks for Your Cover Letter
Your cover letter format is there only as support to what you are conveying. It should not steal the spotlight. When crafting your cover letter, use plain fonts and a standard font size between 10 and 12. Do not use color, graphics or pictures. Even if you are in a creative industry, leave the creative stuff to your portfolio, not your cover letter. Be sure to give text plenty of spacing between paragraphs. Proof it for ease of readability, good grammar and spelling, and clear meaning. Don't work in a vacuum. Once you are done, give it to someone else to read to make sure it is as clear and concise as you want it to be.
A good cover letter demonstrates your intellect, work ethic and diligence. Think of the cover letter as the first impression of your resume. You want that first impression to be a good one and keep them wanting for more.
Cover Letter Format, a Closer Look
The following articles offer more tips on how to structure your cover letter: