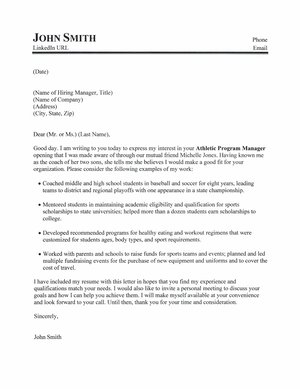 (Date)
(Name of Hiring Manager, Title)
(Name of Company)
(Address)
(City, State, Zip)
Dear (Mr. or Ms.) (Last Name),
Good day. I am writing to you today to express my interest in your Athletic Program Manager opening that I was made aware of through our mutual friend Michelle Jones. Having known me as the coach of her two sons, she tells me she believes I would make a good fit for your organization. Please consider the following examples of my work:
Coached middle and high school students in baseball and soccer for eight years, leading teams to district and regional playoffs with one appearance in a state championship.
Mentored students in maintaining academic eligibility and qualification for sports scholarships to state universities; helped more than a dozen students earn scholarships to college.
Developed recommended programs for healthy eating and workout regimens that were customized for students ages, body types, and sport requirements.
Worked with parents and schools to raise funds for sports teams and events; planned and led multiple fundraising events for the purchase of new equipment and uniforms and to cover the cost of travel.
I have included my resume with this letter in hopes that you find my experience and qualifications match your needs. I would also like to invite a personal meeting to discuss your goals and how I can help you achieve them. I will make myself available at your convenience and look forward to your call. Until then, thank you for your time and consideration.
Sincerely,
John Smith
---