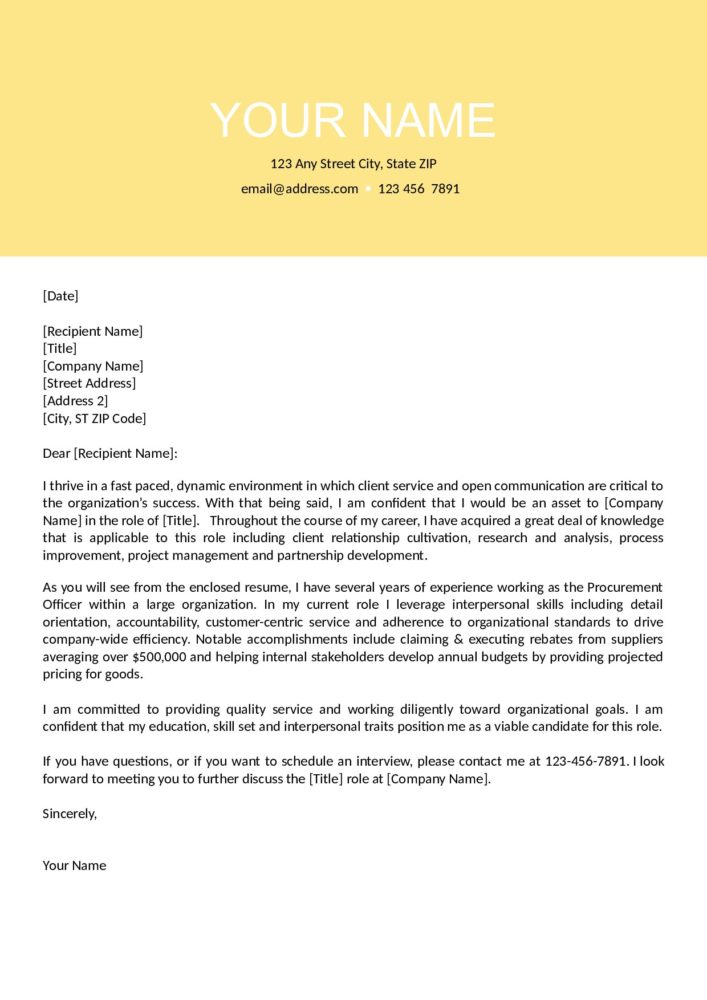 by Jasmine Brennan
* See corresponding buyer resume.
(Date)
(Recipient Name)
(Title)
(Company Name)
(Street Address)
(Address 2)
(City, ST ZIP Code)
Dear [Recipient Name]:
I thrive in a fast paced, dynamic environment in which client service and open communication are critical to the organization's success. With that being said, I am confident that I would be an asset to [Company Name] in the role of [Title]. Throughout the course of my career, I have acquired a great deal of knowledge that is applicable to this role including client relationship cultivation, research and analysis, process improvement, project management and partnership development.
As you will see from the enclosed resume, I have several years of experience working as the Procurement Officer within a large organization. In my current role I leverage interpersonal skills including detail orientation, accountability, customer-centric service and adherence to organizational standards to drive company-wide efficiency. Notable accomplishments include claiming & executing rebates from suppliers averaging over $500,000 and helping internal stakeholders develop annual budgets by providing projected pricing for goods.
I am committed to providing quality service and working diligently toward organizational goals. I am confident that my education, skill set and interpersonal traits position me as a viable candidate for this role.
If you have questions, or if you want to schedule an interview, please contact me at 123-456-7891. I look forward to meeting you to further discuss the [Title] role at [Company Name].
Sincerely,
Your Name
---