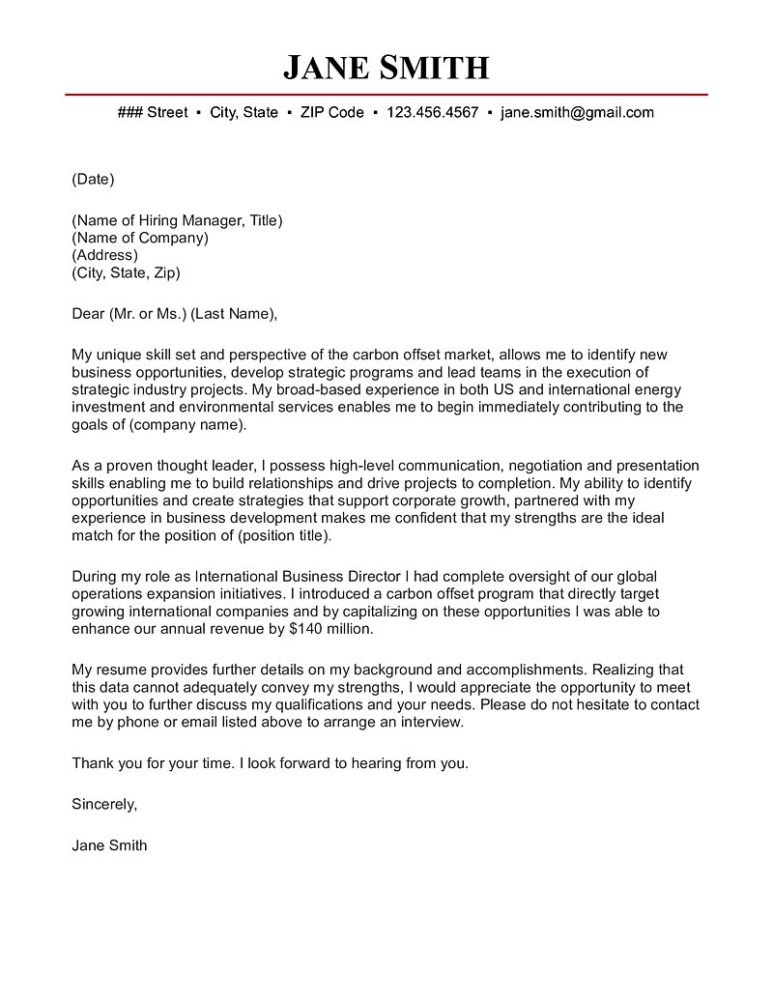 by Megan Koehler
(Date)
(Name of Hiring Manager, Title)
(Name of Company)
(Address)
(City, State, Zip)
Dear (Mr. or Ms.) (Last Name),
My unique skill set and perspective of the carbon offset market, allows me to identify new business opportunities, develop strategic programs and lead teams in the execution of strategic industry projects. My broad-based experience in both US and international energy investment and environmental services enables me to begin immediately contributing to the goals of (company name).
As a proven thought leader, I possess high-level communication, negotiation and presentation skills enabling me to build relationships and drive projects to completion. My ability to identify opportunities and create strategies that support corporate growth, partnered with my experience in business development makes me confident that my strengths are the ideal match for the position of (position title).
During my role as International Business Director I had complete oversight of our global operations expansion initiatives. I introduced a carbon offset program that directly target growing international companies and by capitalizing on these opportunities I was able to enhance our annual revenue by $140 million.
My resume provides further details on my background and accomplishments. Realizing that this data cannot adequately convey my strengths, I would appreciate the opportunity to meet with you to further discuss my qualifications and your needs. Please do not hesitate to contact me by phone or email listed above to arrange an interview.
Thank you for your time. I look forward to hearing from you.
Sincerely,
Jane Smith
---