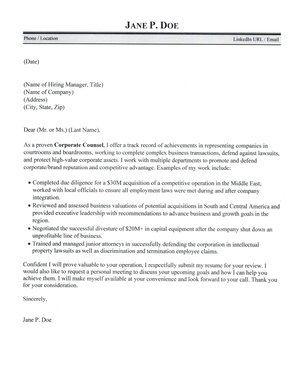 (Date)
(Name of Hiring Manager, Title)
(Name of Company)
(Address)
(City, State, Zip)
Dear (Mr. or Ms.) (Last Name),
As a proven Corporate Counsel, I offer a track record of achievements in representing companies in courtrooms and boardrooms, working to complete complex business transactions, defend against lawsuits, and protect high-value corporate assets. I work with multiple departments to promote and defend corporate/brand reputation and competitive advantage. Examples of my work include:
Completed due diligence for a $30M acquisition of a competitive operation in the Middle East; worked with local officials to ensure all employment laws were met during and after company integration.
Reviewed and assessed business valuations of potential acquisitions in South and Central America and provided executive leadership with recommendations to advance business and growth goals in the region.
Negotiated the successful divesture of $20M+ in capital equipment after the company shut down an unprofitable line of business.
Trained and managed junior attorneys in successfully defending the corporation in intellectual property lawsuits as well as discrimination and termination employee claims.
Confident I will prove valuable to your operation, I respectfully submit my resume for your review. I would also like to request a personal meeting to discuss your upcoming goals and how I can help you achieve them. I will make myself available at your convenience and look forward to your call. Thank you for your consideration.
Sincerely,
Jane P. Doe
---