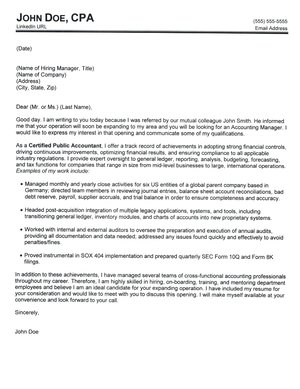 (Date)
(Name of Hiring Manager, Title)
(Name of Company)
(Address)
(City, State, Zip)
Dear (Mr. or Ms.) (Last Name),
Good day. I am writing to you today because I was referred by our mutual colleague John Smith. He informed me that your operation will soon be expanding to my area and you will be looking for an Accounting Manager. I would like to express my interest in that opening and communicate some of my qualifications.
As a Certified Public Accountant, I offer a track record of achievements in adopting strong financial controls, driving continuous improvements, optimizing financial results, and ensuring compliance to all applicable industry regulations. I provide expert oversight to general ledger, reporting, analysis, budgeting, forecasting, and tax functions for companies that range in size from mid-level businesses to large, international operations. Examples of my work include:
Managed monthly and yearly close activities for six US entities of a global parent company based in Germany; directed team members in reviewing journal entries, balance sheet account reconciliations, bad debt reserve, payroll, supplier accruals, and trial balance in order to ensure completeness and accuracy.
Headed post-acquisition integration of multiple legacy applications, systems, and tools, including transitioning general ledger, inventory modules, and charts of accounts into new proprietary systems.
Worked with internal and external auditors to oversee the preparation and execution of annual audits, providing all documentation and data needed; addressed any issues found quickly and effectively to avoid penalties/fines.
Proved instrumental in SOX 404 implementation and prepared quarterly SEC Form 10Q and Form 8K filings.
In addition to these achievements, I have managed several teams of cross-functional accounting professionals throughout my career. Therefore, I am highly skilled in hiring, on-boarding, training, and mentoring department employees and believe I am an ideal candidate for your expanding operation. I have included my resume for your consideration and would like to meet with you to discuss this opening. I will make myself available at your convenience and look forward to your call.
Sincerely,
John Doe
---