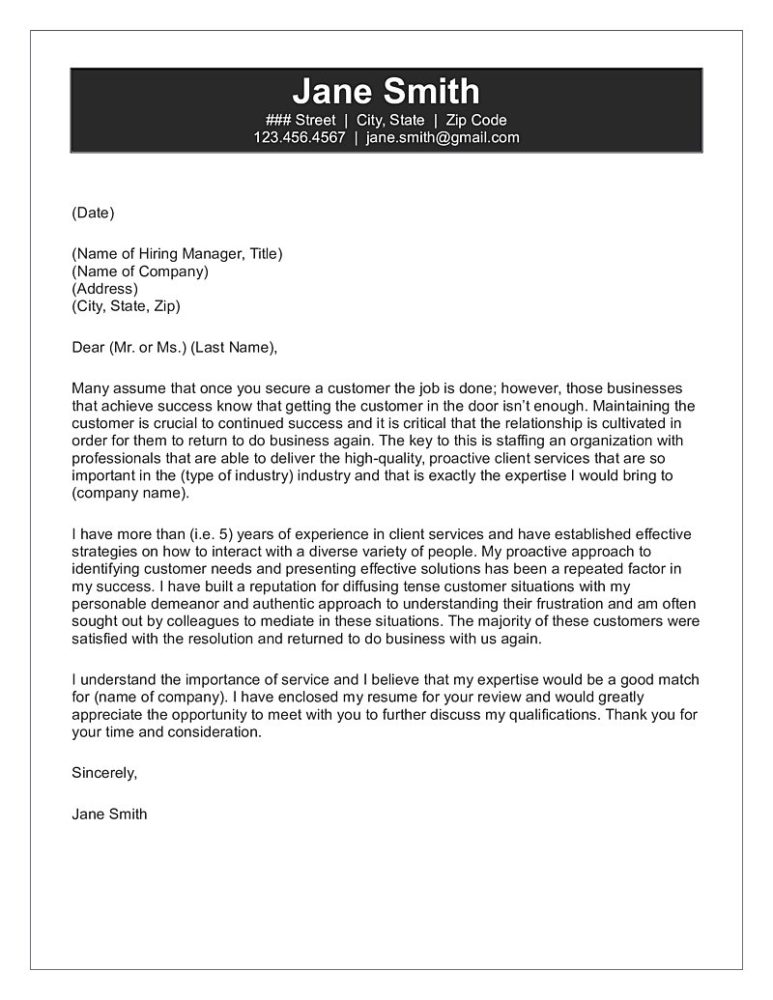 by Megan Koehler
(Date)
(Name of Hiring Manager, Title)
(Name of Company)
(Address)
(City, State, Zip)
Dear (Mr. or Ms.) (Last Name),
Many assume that once you secure a customer the job is done; however, those businesses that achieve success know that getting the customer in the door isn't enough. Maintaining the customer is crucial to continued success and it is critical that the relationship is cultivated in order for them to return to do business again. The key to this is staffing an organization with professionals that are able to deliver the high-quality, proactive client services that are so important in the (type of industry) industry and that is exactly the expertise I would bring to (company name).
I have more than (i.e. 5) years of experience in client services and have established effective strategies on how to interact with a diverse variety of people. My proactive approach to identifying customer needs and presenting effective solutions has been a repeated factor in my success. I have built a reputation for diffusing tense customer situations with my personable demeanor and authentic approach to understanding their frustration and am often sought out by colleagues to mediate in these situations. The majority of these customers were satisfied with the resolution and returned to do business with us again.
I understand the importance of service and I believe that my expertise would be a good match for (name of company). I have enclosed my resume for your review and would greatly appreciate the opportunity to meet with you to further discuss my qualifications. Thank you for your time and consideration.
Sincerely,
Jane Smith
---