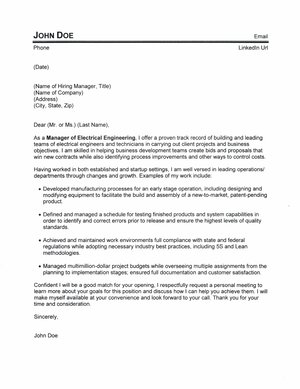 (Date)
(Name of Hiring Manager, Title)
(Name of Company)
(Address)
(City, State, Zip)
Dear (Mr. or Ms.) (Last Name),
As a Manager of Electrical Engineering, I offer a proven track record of building and leading teams of electrical engineers and technicians in carrying out client projects and business objectives. I am skilled in helping business development teams create bids and proposals that win new contracts while also identifying process improvements and other ways to control costs.
Having worked in both established and startup settings, I am well versed in leading operations/ departments through changes and growth. Examples of my work include:
Developed manufacturing processes for an early stage operation, including designing and modifying equipment to facilitate the build and assembly of a new-to-market, patent-pending product.
Defined and managed a schedule for testing finished products and system capabilities in order to identify and correct errors prior to release and ensure the highest levels of quality standards.
Achieved and maintained work environments full compliance with state and federal regulations while adopting necessary industry best practices, including 5S and Lean methodologies.
Managed multimillion-dollar project budgets while overseeing multiple assignments from the planning to implementation stages; ensured full documentation and customer satisfaction.
Confident I will be a good match for your opening, I respectfully request a personal meeting to learn more about your goals for this position and discuss how I can help you achieve them. I will make myself available at your convenience and look forward to your call. Thank you for your time and consideration.
Sincerely,
John Doe
---