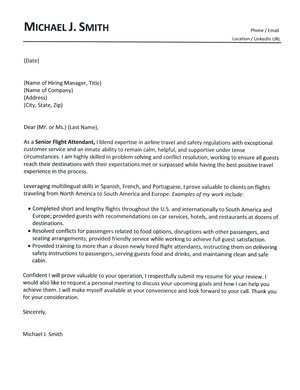 (Date)
(Name of Hiring Manager, Title)
(Name of Company)
(Address)
(City, State, Zip)
Dear (Mr. or Ms.) (Last Name),
As a Senior Flight Attendant, I blend expertise in airline travel and safety regulations with exceptional customer service and an innate ability to remain calm, helpful, and supportive under tense circumstances. I am highly skilled in problem solving and conflict resolution, working to ensure all guests reach their destinations with their expectations met or surpassed while having the best positive travel experience in the process.
Leveraging multilingual skills in Spanish, French, and Portuguese, I prove valuable to clients on flights traveling from North America to South America and Europe. Examples of my work include:
Completed short and lengthy flights throughout the U.S. and internationally to South America and Europe; provided guests with recommendations on car services, hotels, and restaurants at dozens of destinations.
Resolved conflicts for passengers related to food options, disruptions with other passengers, and seating arrangements; provided friendly service while working to achieve full guest satisfaction.
Provided training to more than a dozen newly hired flight attendants, instructing them on delivering safety instructions to passengers, serving guests food and drinks, and maintaining clean and safe cabin.
Confident I will prove valuable to your operation, I respectfully submit my resume for your review. I would also like to request a personal meeting to discuss your upcoming goals and how I can help you achieve them. I will make myself available at your convenience and look forward to your call. Thank you for your consideration.
Sincerely,
Michael J. Smith
---