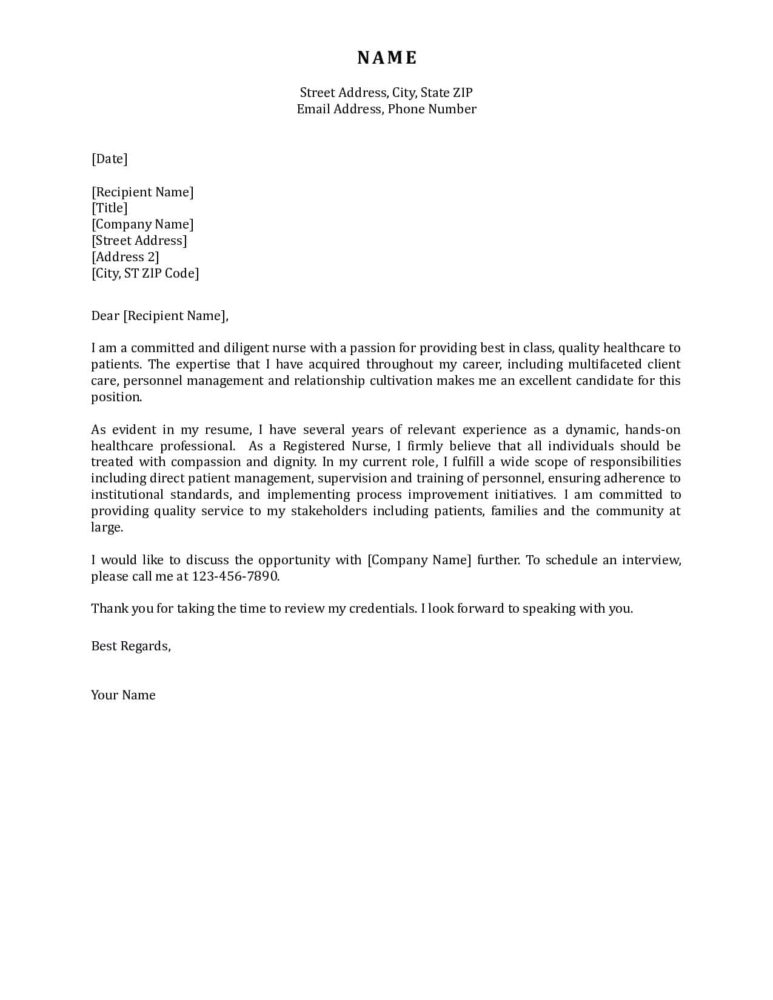 by Jasmine Brennan
* See the nurse resume.
(Date)
(Recipient Name)
(Title)
(Company Name)
(Street Address)
(Address 2)
(City, ST ZIP Code)
Dear [Recipient Name],
I am a committed and diligent nurse with a passion for providing best in class, quality healthcare to patients. The expertise that I have acquired throughout my career, including multifaceted client care, personnel management and relationship cultivation makes me an excellent candidate for this position.
As evident in my resume, I have several years of relevant experience as a dynamic, hands-on healthcare professional.  As a Registered Nurse, I firmly believe that all individuals should be treated with compassion and dignity. In my current role, I fulfill a wide scope of responsibilities including direct patient management, supervision and training of personnel, ensuring adherence to institutional standards, and implementing process improvement initiatives. I am committed to providing quality service to my stakeholders including patients, families and the community at large.
I would like to discuss the opportunity with [Company Name] further. To schedule an interview, please call me at 123-456-7890.
Thank you for taking the time to review my credentials. I look forward to speaking with you.
Best Regards,
Your Name
---