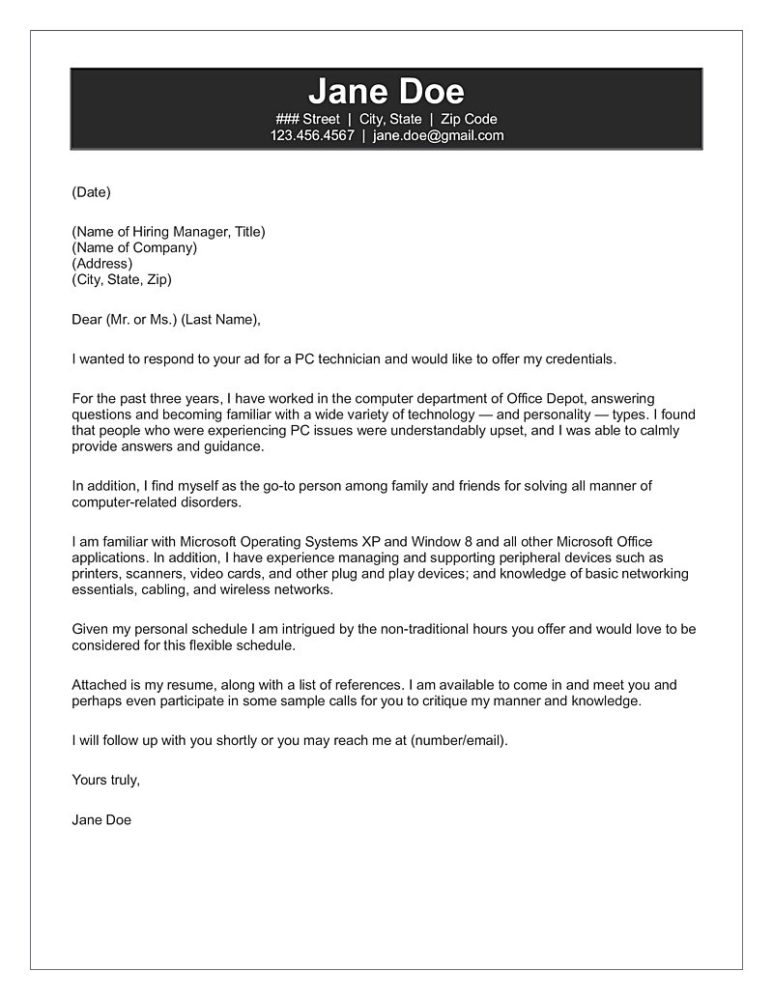 by WorkAlpha
(Date)
(Name of Hiring Manager, Title)
(Name of Company)
(Address)
(City, State, Zip)
Dear (Mr. or Ms.) (Last Name),
I wanted to respond to your ad for a PC technician and would like to offer my credentials.
For the past three years, I have worked in the computer department of Office Depot, answering questions and becoming familiar with a wide variety of technology — and personality — types. I found that people who were experiencing PC issues were understandably upset, and I was able to calmly provide answers and guidance.
In addition, I find myself as the go-to person among family and friends for solving all manner of computer-related disorders.
I am familiar with Microsoft Operating Systems XP and Window 8 and all other Microsoft Office applications. In addition, I have experience managing and supporting peripheral devices such as printers, scanners, video cards, and other plug and play devices; and knowledge of basic networking essentials, cabling, and wireless networks.
Given my personal schedule I am intrigued by the non-traditional hours you offer and would love to be considered for this flexible schedule.
Attached is my resume, along with a list of references. I am available to come in and meet you and perhaps even participate in some sample calls for you to critique my manner and knowledge.
I will follow up with you shortly or you may reach me at (number/email).
Yours truly,
Jane Doe
---