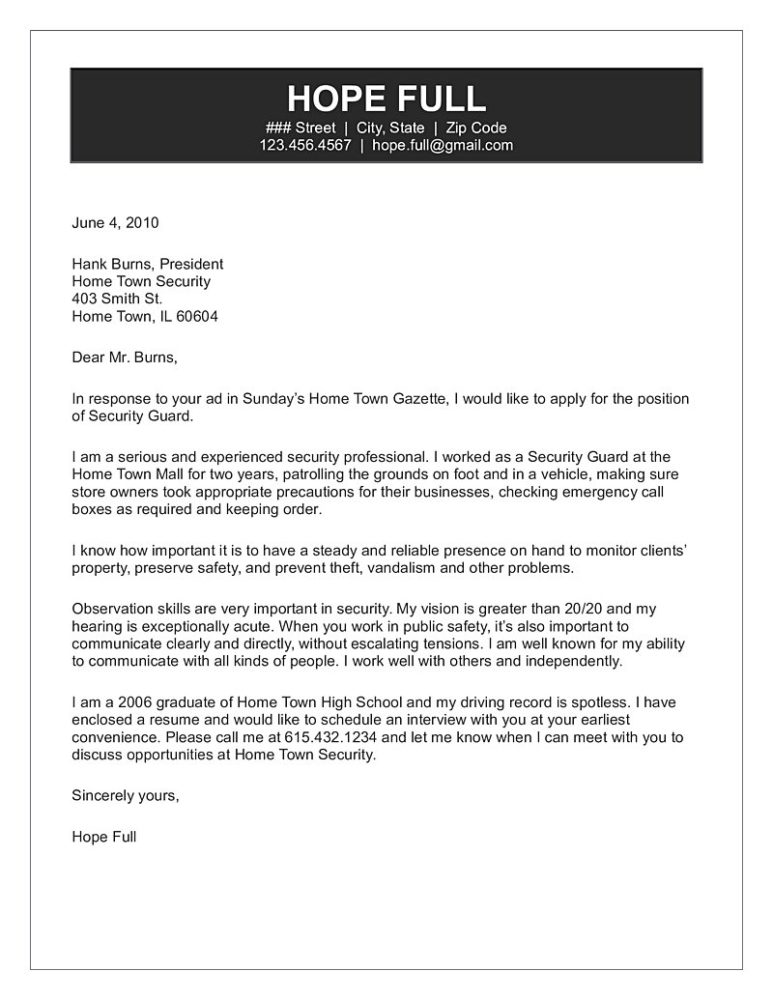 by WorkAlpha
June 4, 2010
Hank Burns, President
Home Town Security
403 Smith St.
Home Town, IL 60604
Dear Mr. Burns,
In response to your ad in Sunday's Home Town Gazette, I would like to apply for the position of Security Guard.
I am a serious and experienced security professional. I worked as a Security Guard at the Home Town Mall for two years, patrolling the grounds on foot and in a vehicle, making sure store owners took appropriate precautions for their businesses, checking emergency call boxes as required and keeping order.
I know how important it is to have a steady and reliable presence on hand to monitor clients' property, preserve safety, and prevent theft, vandalism and other problems.
Observation skills are very important in security. My vision is greater than 20/20 and my hearing is exceptionally acute. When you work in public safety, it's also important to communicate clearly and directly, without escalating tensions. I am well known for my ability to communicate with all kinds of people. I work well with others and independently.
I am a 2006 graduate of Home Town High School and my driving record is spotless. I have enclosed a resume and would like to schedule an interview with you at your earliest convenience. Please call me at 615.432.1234 and let me know when I can meet with you to discuss opportunities at Home Town Security.
Sincerely yours,
Hope Full
---