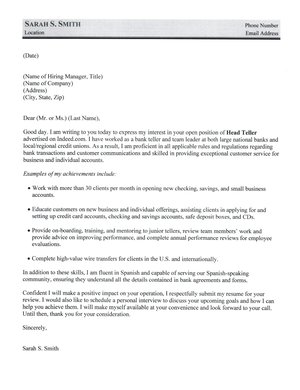 (Date)
(Name of Hiring Manager, Title)
(Name of Company)
(Address)
(City, State, Zip)
Dear (Mr. or Ms.) (Last Name),
Good day. I am writing to you today to express my interest in your open position of Head Teller advertised on Indeed.com. I have worked as a bank teller and team leader at both large national banks and local/regional credit unions. As a result, I am proficient in all applicable rules and regulations regarding bank transactions and customer communications and skilled in providing exceptional customer service for business and individual accounts.
Examples of my achievements include:
Work with more than 30 clients per month in opening new checking, savings, and small business accounts.
Educate customers on new business and individual offerings, assisting clients in applying for and setting up credit card accounts, checking and savings accounts, safe deposit boxes, and CDs.
Provide on-boarding, training, and mentoring to junior tellers, review team members' work and provide advice on improving performance, and complete annual performance reviews for employee evaluations.
Complete high-value wire transfers for clients in the U.S. and internationally.
In addition to these skills, I am fluent in Spanish and capable of serving our Spanish-speaking community, ensuring they understand all the details contained in bank agreements and forms.
Confident I will make a positive impact on your operation, I respectfully submit my resume for your review. I would also like to schedule a personal interview to discuss your upcoming goals and how I can help you achieve them. I will make myself available at your convenience and look forward to your call. Until then, thank you for your consideration.
Sincerely,
Sarah S. Smith
---