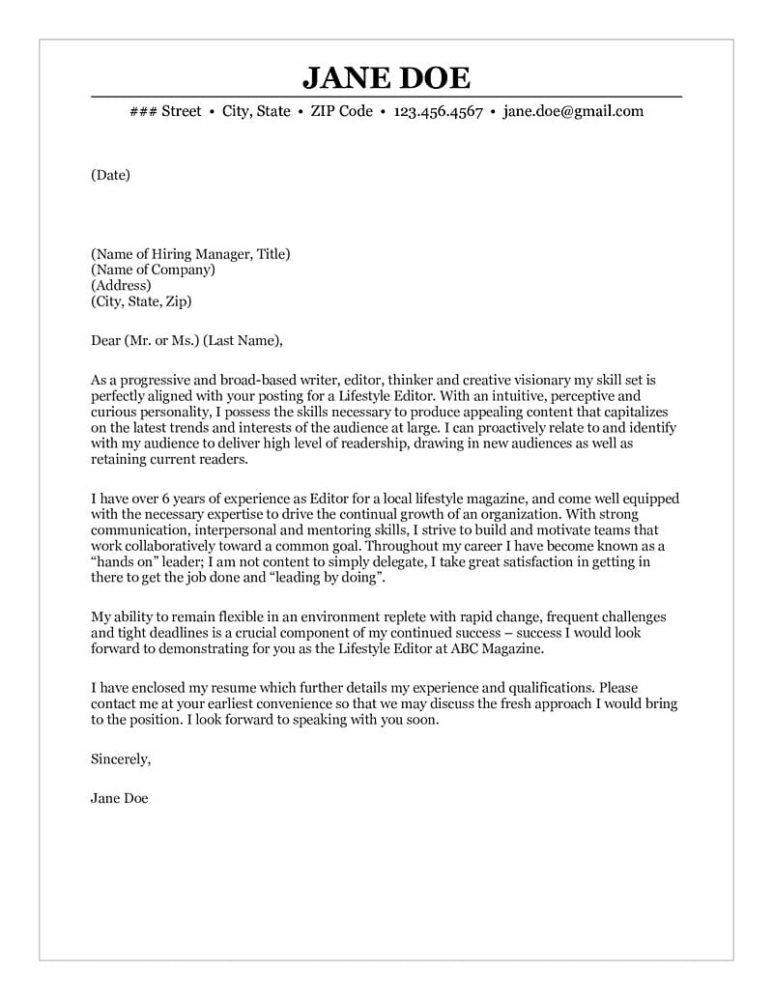 by Megan Koehler
(Date)
(Name of Hiring Manager, Title)
(Name of Company)
(Address)
(City, State, Zip)
Dear (Mr. or Ms.) (Last Name),
As a progressive and broad-based writer, editor, thinker and creative visionary my skill set is perfectly aligned with your posting for a Lifestyle Editor. With an intuitive, perceptive and curious personality, I possess the skills necessary to produce appealing content that capitalizes on the latest trends and interests of the audience at large. I can proactively relate to and identify with my audience to deliver high level of readership, drawing in new audiences as well as retaining current readers.
I have over 6 years of experience as Editor for a local lifestyle magazine, and come well equipped with the necessary expertise to drive the continual growth of an organization. With strong communication, interpersonal and mentoring skills, I strive to build and motivate teams that work collaboratively toward a common goal. Throughout my career I have become known as a "hands on" leader; I am not content to simply delegate, I take great satisfaction in getting in there to get the job done and "leading by doing".
My ability to remain flexible in an environment replete with rapid change, frequent challenges and tight deadlines is a crucial component of my continued success – success I would look forward to demonstrating for you as the Lifestyle Editor at ABC Magazine.
I have enclosed my resume which further details my experience and qualifications. Please contact me at your earliest convenience so that we may discuss the fresh approach I would bring to the position. I look forward to speaking with you soon.
Sincerely,
Jane Doe
---