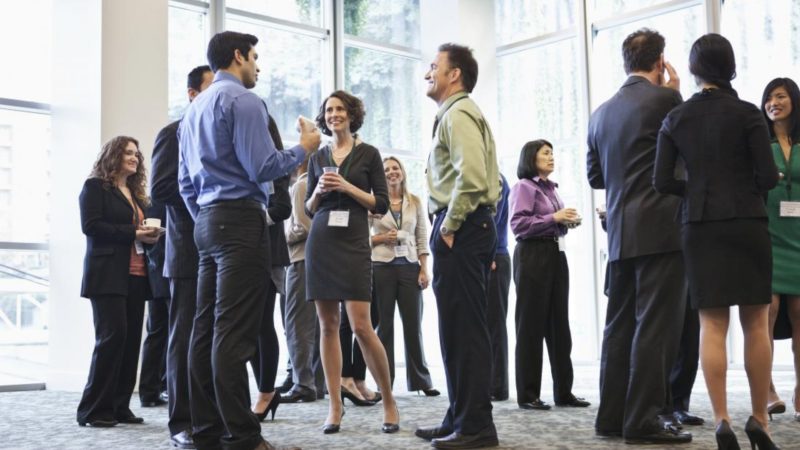 How to connect with others at a networking event without feeling lost. Practical tips and insights on how to do small talk and navigate your way around the room.
Almost everyone feels jittery when they're attending a networking event. The secret is to look like you're there to have fun and learn something… and you probably will.
Here are some tips for putting your best foot forward.
Arrive on time, or early. It's much more difficult to break into a group when the chatter is already underway. By arriving on time, you can take a few moments to greet the host and watch for others who are coming in, who might be nervous also. If you're with the host, they might be helpful in introducing you to others who are arriving.
Bring a friend. Not to hang out with, but to give you confidence… and an exit strategy! Having a friend there can make it easier to approach a group at the outset. You might – and probably should – go your separate ways, but starting a conversation together can feel more natural. Also, he or she might know someone you don't, and can also rescue you from someone who's monopolizing you.
Offer to help. If you get there early, one of the best spots in the room is at the check-in table. You'll be able to peruse the guest list, figure out who you want to meet, and literally put a face to a name when they greet you. It makes it easier to find them later, without having to do the awkward name tag scan.
Avoid eating or drinking till the program begins. Juggling a plate of food or a drink is unprofessional and awkward. You're not there to pig out, no matter how tempting the buffet is. Have a small snack before you go, so you're not famished and then focus on meeting people rather than hanging out by the food.
Or, eat with someone you want to chat with. If you're talking with someone and they excuse themselves to the buffet, that is your cue that they are finished chatting with you. But, if they invite you to come, and it's someone you want to continue talking to, by all means join them.
Have an introduction ready. Greet people with your name and place of business (if you have one). "I'm Steven Hayes from Mountain Mortgage. I've been wanting to attend a meeting with this group for a long time and am glad to be here." That gives your partner a chance to introduce themselves and hopefully impart some information on why they are there… member, another first timer, etc. That will help direct the rest of the conversation. If you don't have a job at the moment, just offer your name and then when they do the same, ask a question about their business or industry. At some point, they will ask where you work and you can explain that you are there to find out more about opportunities in the industry.
Don't stand on the side of the room too long looking lost. Rather, find someone else who is standing alone – they also will appreciate being rescued – or a group of three, if possible. A large group might not notice you approach and then you are standing there awkwardly. A pair might be having a catch up conversation, or even a business discussion, and you don't want to be the third wheel.
When the program begins, make a quick assessment if you want to continue talking with and thus sit with, your current group, or if a change is needed. If you want to join them, ask if they have a table already. If they do, and offer a seat, accept it. If they do and say they have a group they are with, thank them and say you hope to see them later. Do a quick inspection of the room and choose the best possible table for you, ideally one where there are several people in a discussion and more than one open seat, or even a couple of people sitting there, not talking. They will appreciate your intervention.
The most important thing to remember is that almost everyone is nervous – but almost everyone is there for the same purpose. To meet people and learn more about the industry. So don't be too hard on yourself. Take a deep breath, smile confidently and jump on in!

by Cathie Ericson