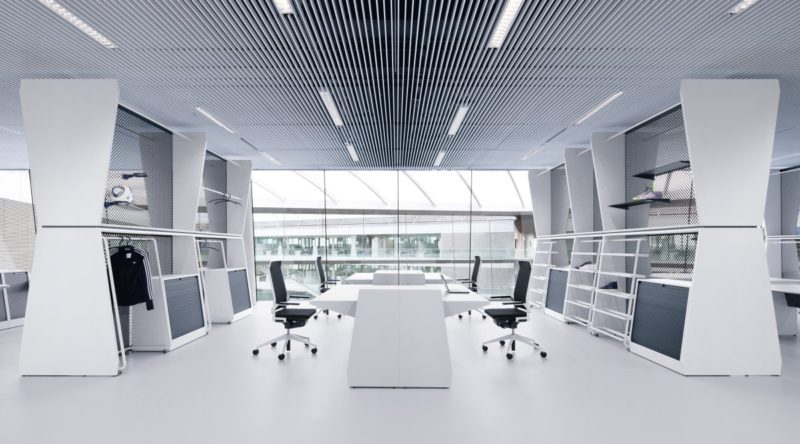 An astounding number of factors can contribute to productivity, or lack thereof, in the work environment. The most common elements are the people we share our work space with, the tools we use and our attitude.
There is, however, one other very important factor that is overlooked when designing office space: proper lighting.
The Effects of Proper Lighting
The choice of lighting in an office can, to some extent, affect employee productivity, especially when you take into account that bad lighting is the most common cause for migraines, eyestrain and drowsiness in the work environment.
Even though artificial lighting is the most common source of lighting in office buildings, it does not come without side effects. If the light is too bright or too dim, it can cause employees to suffer from migraines, eyestrain, blurred vision or pain in the upper back, shoulders and neck. This is especially true in offices with overhead florescent lights.
The best route to follow is natural light, if at all possible. Employees whose desks are positioned by a window are usually more alert, more focused on their work, and less prone to illness and unnecessary absenteeism.
Most office buildings, however, do not offer the luxury of sufficient natural lighting.
Choose the Right Lighting
Keep the following tips in mind when choosing artificial lighting for your office.
If natural lighting is not an option, choose light bulbs in the 5000k to 6500k range, or the "daylight" range. It is also advisable to rely on two or more light sources, instead of one.  An indirect lighting source can be installed to brighten up the entire room, and smaller "direct light sources" incorporated to focus on a specific task or area. While overhead lights largely determine the overall atmosphere of an office, task lights are more functional.
Employees who work in an open plan office with overhead fluorescent lighting are encouraged to use a desk lamp with halogen bulbs and an adjustable head for task lighting. The adjustable head can be manipulated to focus on a specific area of the desk while working. Halogen bulbs are ideal for detail work as they render colour with clarity and are "softer," thus reducing eye strain.
Consider replacing old lamps or bulbs, and removing anything that could obstruct light, such as filing cabinets, shelves, etc. Even changing a single bulb can relieve eye strain, save money and improve your productivity.
Other Tips
Alternatively, if you have no control over the light options in your office, you could improve your environment in the following ways:
Adjust the contrast and brightness settings on your computer screen, as well as moving the monitor closer and/or changing the angle to a position that minimizes screen glare.
Take breaks. Sitting in the same position for too long, or staring at the same spot for extended periods is counterproductive and will cause eye strain and neck ache.
Lighting is one of the factors that should not be overlooked. Implementing bad lighting in your office is a sure fire way to kill employee productivity.

by Cheryl-Anne Roelofsz