by Megan Koehler (ContempoResume)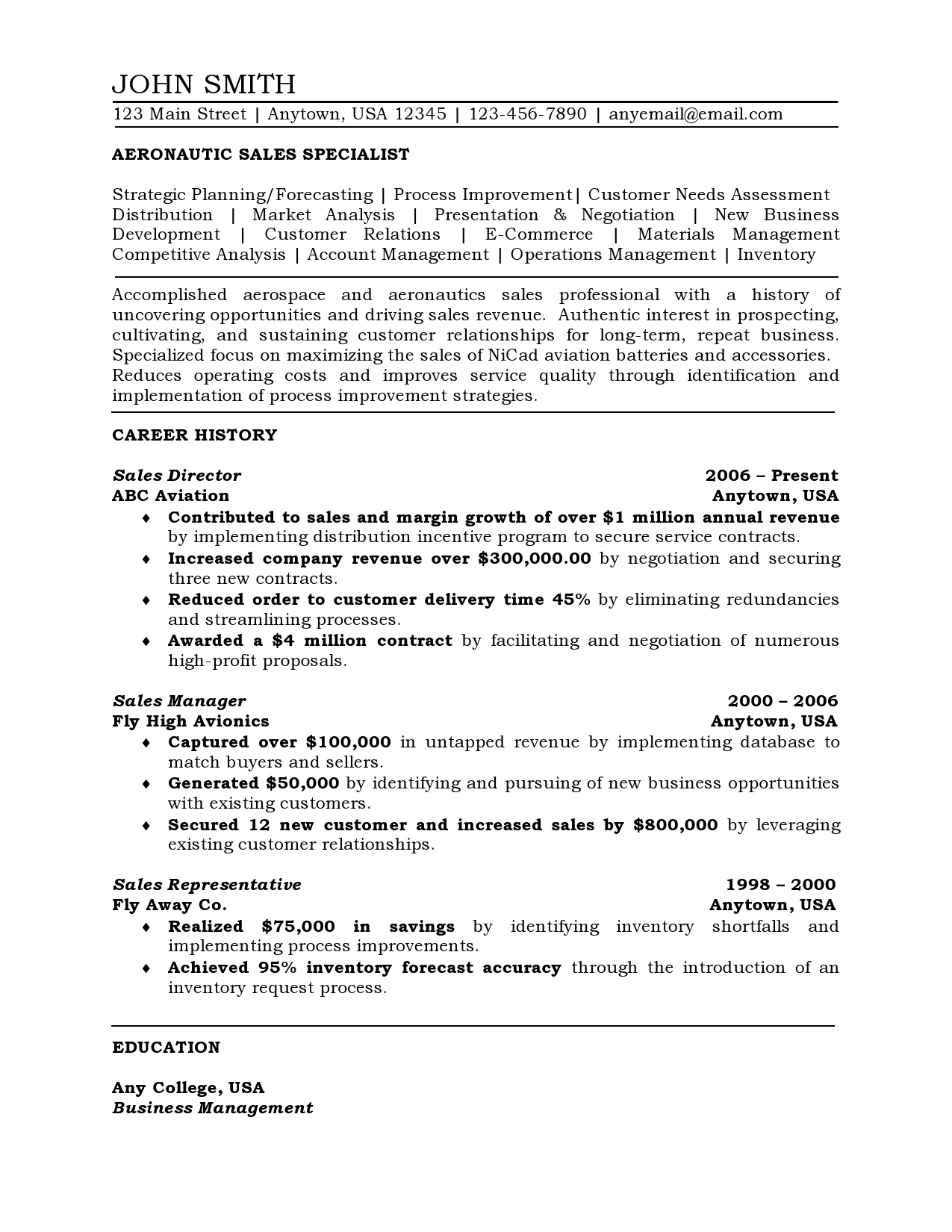 ---
Text Version of the
Aeronautic Sales Resume Sample

---
JOHN SMITH

123 Main Street | Anytown, USA 12345 | 123-456-7890 | [email protected]
AERONAUTIC SALES SPECIALIST
Strategic Planning/Forecasting | Process Improvement | Customer Needs Assessment Distribution | Market Analysis | Presentation & Negotiation | New Business Development | Customer Relations | E-Commerce | Materials Management Competitive Analysis | Account Management | Operations Management | Inventory
Accomplished aerospace and aeronautics sales professional with a history of uncovering opportunities and driving sales revenue. Authentic interest in prospecting, cultivating, and sustaining customer relationships for long-term, repeat business. Specialized focus on maximizing the sales of NiCad aviation batteries and accessories. Reduces operating costs and improves service quality through identification and implementation of process improvement strategies.
CAREER HISTORY
Sales Director (2006 – Present)
ABC Aviation, Anytown, USA
Contributed to sales and margin growth of over $1 million annual revenue by implementing distribution incentive program to secure service contracts.
Increased company revenue over $300,000.00 by negotiation and securing three new contracts.
Reduced order to customer delivery time 45% by eliminating redundancies and streamlining processes.
Awarded a $4 million contract by facilitating and negotiation of numerous high-profit proposals.
Sales Manager (2000 – 2006)
Fly High Avionics, Anytown, USA
Captured over $100,000 in untapped revenue by implementing database to match buyers and sellers.
Generated $50,000 by identifying and pursuing of new business opportunities with existing customers.
Secured 12 new customers and increased sales by $800,000 by leveraging existing customer relationships.
Sales Representative (1998 – 2000)
Fly Away Co., Anytown, USA
Realized $75,000 in savings by identifying inventory shortfalls and implementing process improvements.
Achieved 95% inventory forecast accuracy through the introduction of an inventory request process.
EDUCATION
Any College, USA
Business Management
---