by Megan Koehler (ContempoResume)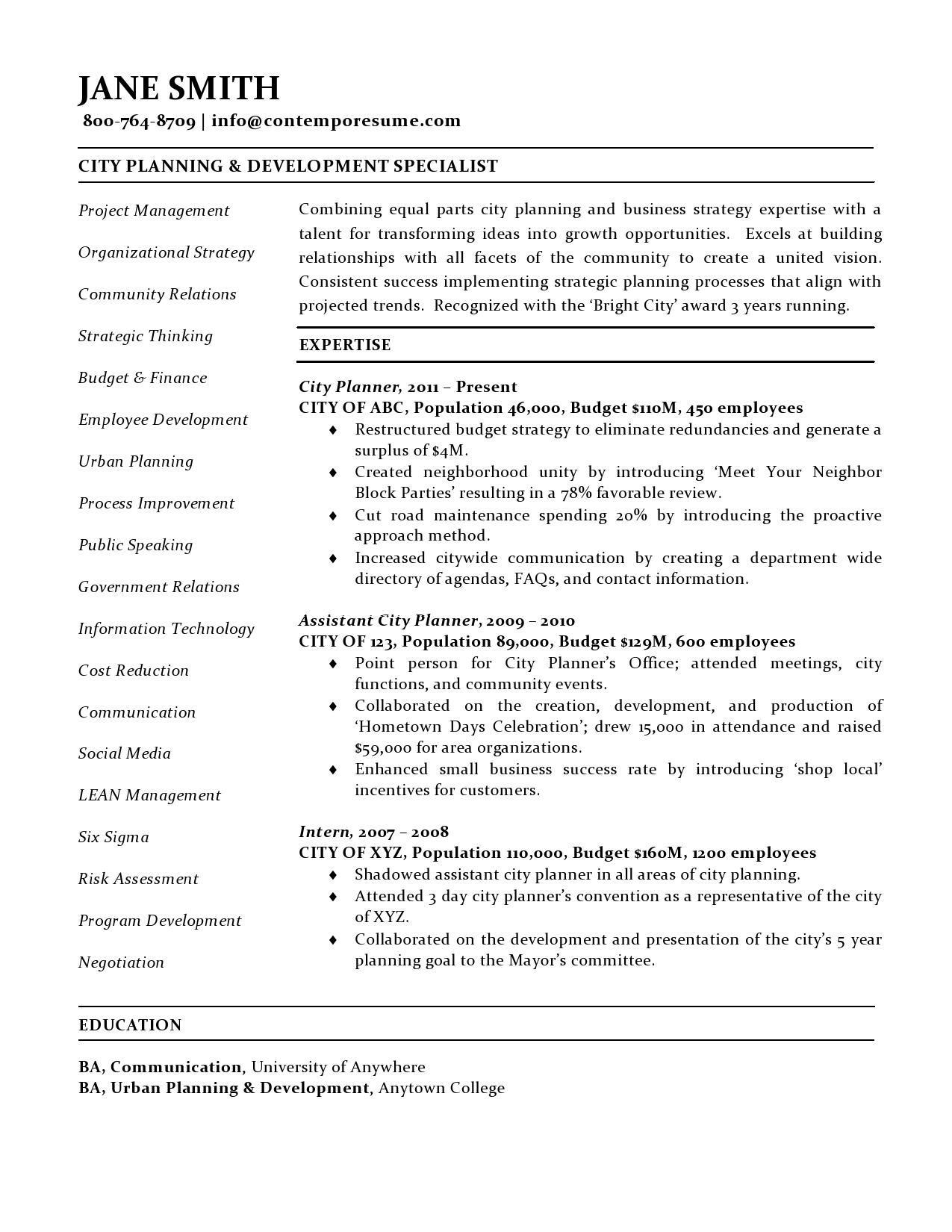 ---
Text Version of the
City Planner Resume Sample

---
JANE SMITH
800-764-8709 | [email protected]
CITY PLANNING & DEVELOPMENT SPECIALIST
Project Management, Organizational Strategy, Community Relations, Strategic Thinking, Budget & Finance, Employee Development, Urban Planning, Process Improvement, Public Speaking, Government Relations, Information Technology, Cost Reduction, Communication, Social Media, LEAN Management, Six Sigma, Risk Assessment, Program Development, Negotiation
Combining equal parts city planning and business strategy expertise with a talent for transforming ideas into growth opportunities. Excels at building relationships with all facets of the community to create a united vision. Consistent success implementing strategic planning processes that align with projected trends. Recognized with the 'Bright City' award 3 years running.
EXPERTISE
City Planner, 2011 – Present
CITY OF ABC, Population 46,000, Budget $110M, 450 employees
Restructured budget strategy to eliminate redundancies and generate a surplus of $4M.
Created neighborhood unity by introducing 'Meet Your Neighbor Block Parties' resulting in a 78% favorable review.
Cut road maintenance spending 20% by introducing the proactive approach method.
Increased citywide communication by creating a department wide directory of agendas, FAQs, and contact information.
Assistant City Planner, 2009 – 2010
CITY OF 123, Population 89,000, Budget $129M, 600 employees
Point person for City Planner's Office; attended meetings, city functions, and community events.
Collaborated on the creation, development, and production of 'Hometown Days Celebration'; drew 15,000 in attendance and raised $59,000 for area organizations.
Enhanced small business success rate by introducing 'shop local' incentives for customers.
Intern, 2007 – 2008
CITY OF XYZ, Population 110,000, Budget $160M, 1200 employees
Shadowed assistant city planner in all areas of city planning.
Attended 3 day city planner's convention as a representative of the city of XYZ.
Collaborated on the development and presentation of the city's 5 year planning goal to the Mayor's committee.
EDUCATION
BA, Communication, University of Anywhere
BA, Urban Planning & Development, Anytown College
---