by Megan Koehler (ContempoResume)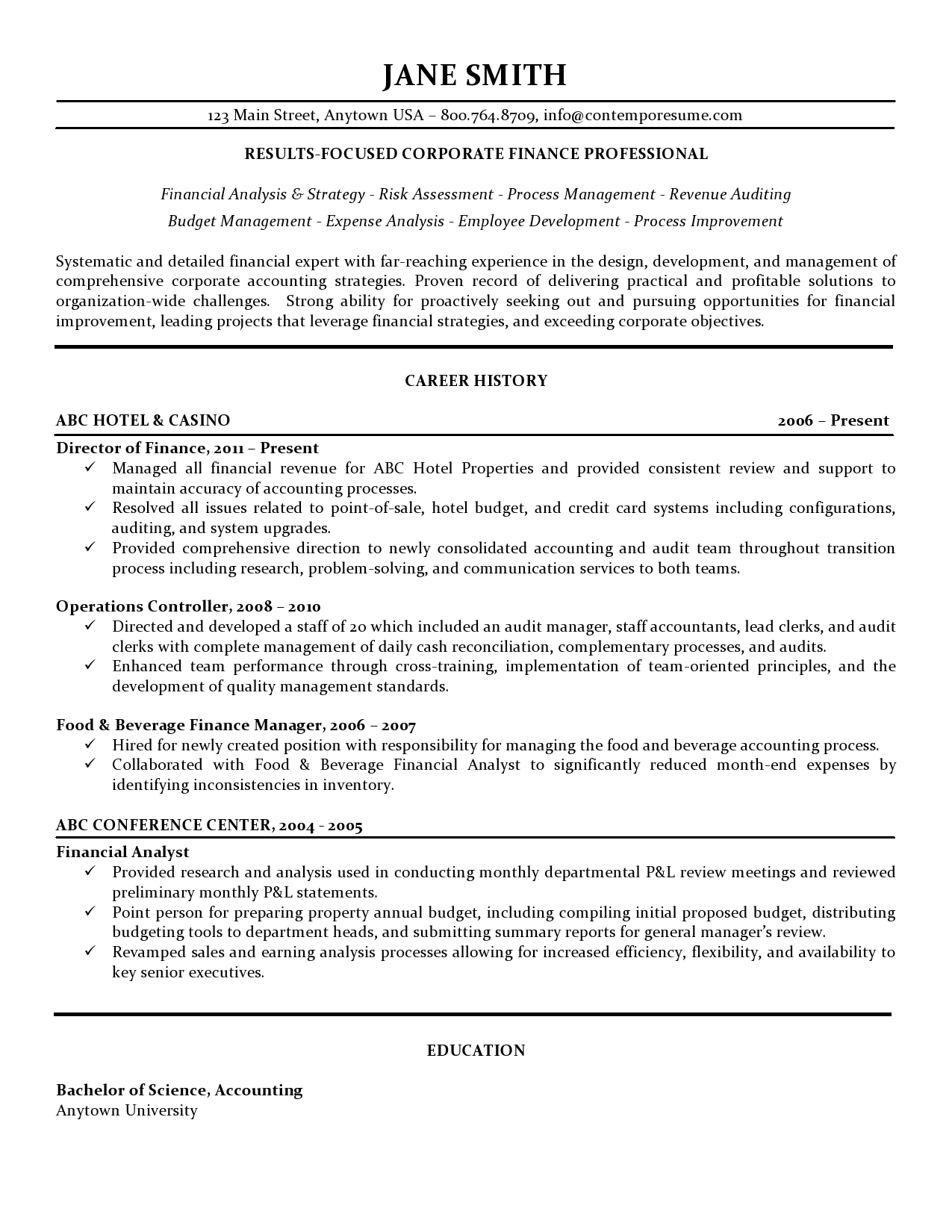 ---
Text Version of the
Corporate Finance Resume Sample

---
JANE SMITH
123 Main Street, Anytown USA
800.764.8709, [email protected]
RESULTS-FOCUSED CORPORATE FINANCE PROFESSIONAL
Financial Analysis & Strategy – Risk Assessment – Process Management – Revenue Auditing – Budget Management – Expense Analysis – Employee Development – Process Improvement
Systematic and detailed financial expert with far-reaching experience in the design, development, and management of comprehensive corporate accounting strategies. Proven record of delivering practical and profitable solutions to organization-wide challenges. Strong ability for proactively seeking out and pursuing opportunities for financial improvement, leading projects that leverage financial strategies, and exceeding corporate objectives.
CAREER HISTORY
ABC HOTEL & CASINO (2006 – Present)
Director of Finance, 2011 – Present
Managed all financial revenue for ABC Hotel Properties and provided consistent review and support to maintain accuracy of accounting processes.
Resolved all issues related to point-of-sale, hotel budget, and credit card systems including configurations, auditing, and system upgrades.
Provided comprehensive direction to newly consolidated accounting and audit team throughout transition process including research, problem-solving, and communication services to both teams.
Operations Controller, 2008 – 2010
Directed and developed a staff of 20 which included an audit manager, staff accountants, lead clerks, and audit clerks with complete management of daily cash reconciliation, complementary processes, and audits.
Enhanced team performance through cross-training, implementation of team-oriented principles, and the development of quality management standards.
Food & Beverage Finance Manager, 2006 – 2007
Hired for newly created position with responsibility for managing the food and beverage accounting process.
Collaborated with Food & Beverage Financial Analyst to significantly reduced month-end expenses by identifying inconsistencies in inventory.
ABC CONFERENCE CENTER (2004 – 2005)
Financial Analyst
Provided research and analysis used in conducting monthly departmental P&L review meetings and reviewed preliminary monthly P&L statements.
Point person for preparing property annual budget, including compiling initial proposed budget, distributing budgeting tools to department heads, and submitting summary reports for general manager's review.
Revamped sales and earning analysis processes allowing for increased efficiency, flexibility, and availability to key senior executives.
EDUCATION
Bachelor of Science, Accounting
Anytown University
---