by Megan Koehler (ContempoResume)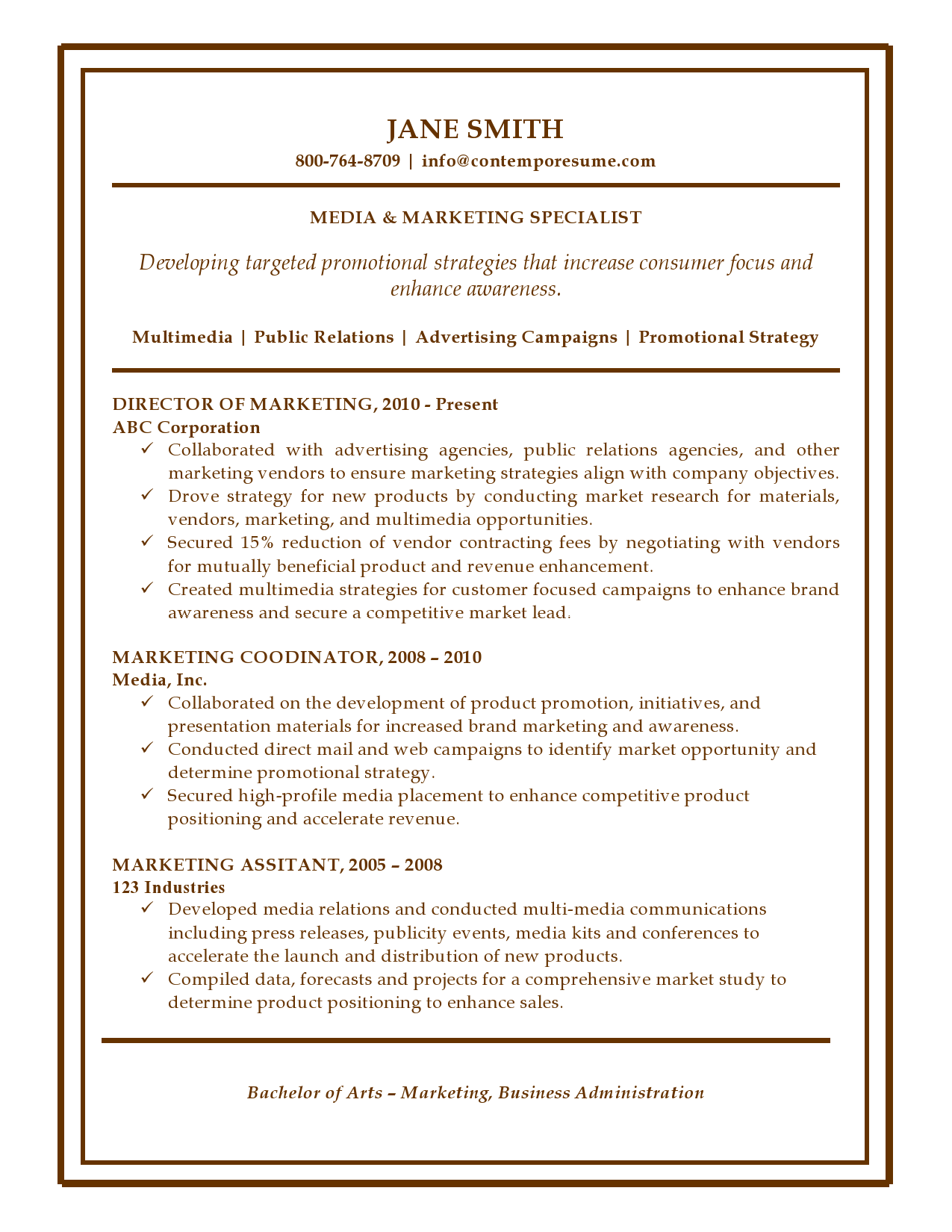 ---
Text Version of the
Marketing Resume Sample

---
JANE SMITH
800-764-8709 | [email protected]
MEDIA & MARKETING SPECIALIST
Developing targeted promotional strategies that increase consumer focus and
enhance awareness.
Multimedia | Public Relations | Advertising Campaigns | Promotional Strategy
DIRECTOR OF MARKETING, 2010 – Present
ABC Corporation
Collaborated with advertising agencies, public relations agencies, and other marketing vendors to ensure marketing strategies align with company objectives.
Drove strategy for new products by conducting market research for materials, vendors, marketing, and multimedia opportunities.
Secured 15% reduction of vendor contracting fees by negotiating with vendors for mutually beneficial product and revenue enhancement.
Created multimedia strategies for customer focused campaigns to enhance brand awareness and secure a competitive market lead.
MARKETING COORDINATOR, 2008 – 2010
Media, Inc.
Collaborated on the development of product promotion, initiatives, and presentation materials for increased brand marketing and awareness.
Conducted direct mail and web campaigns to identify market opportunity and determine promotional strategy.
Secured high-profile media placement to enhance competitive product positioning and accelerate revenue.
MARKETING ASSISTANT, 2005 – 2008
123 Industries
Developed media relations and conducted multi-media communications including press releases, publicity events, media kits and conferences to accelerate the launch and distribution of new products.
Compiled data, forecasts and projects for a comprehensive market study to determine product positioning to enhance sales.
Bachelor of Arts – Marketing, Business Administration
---