by Megan Koehler (ContempoResume)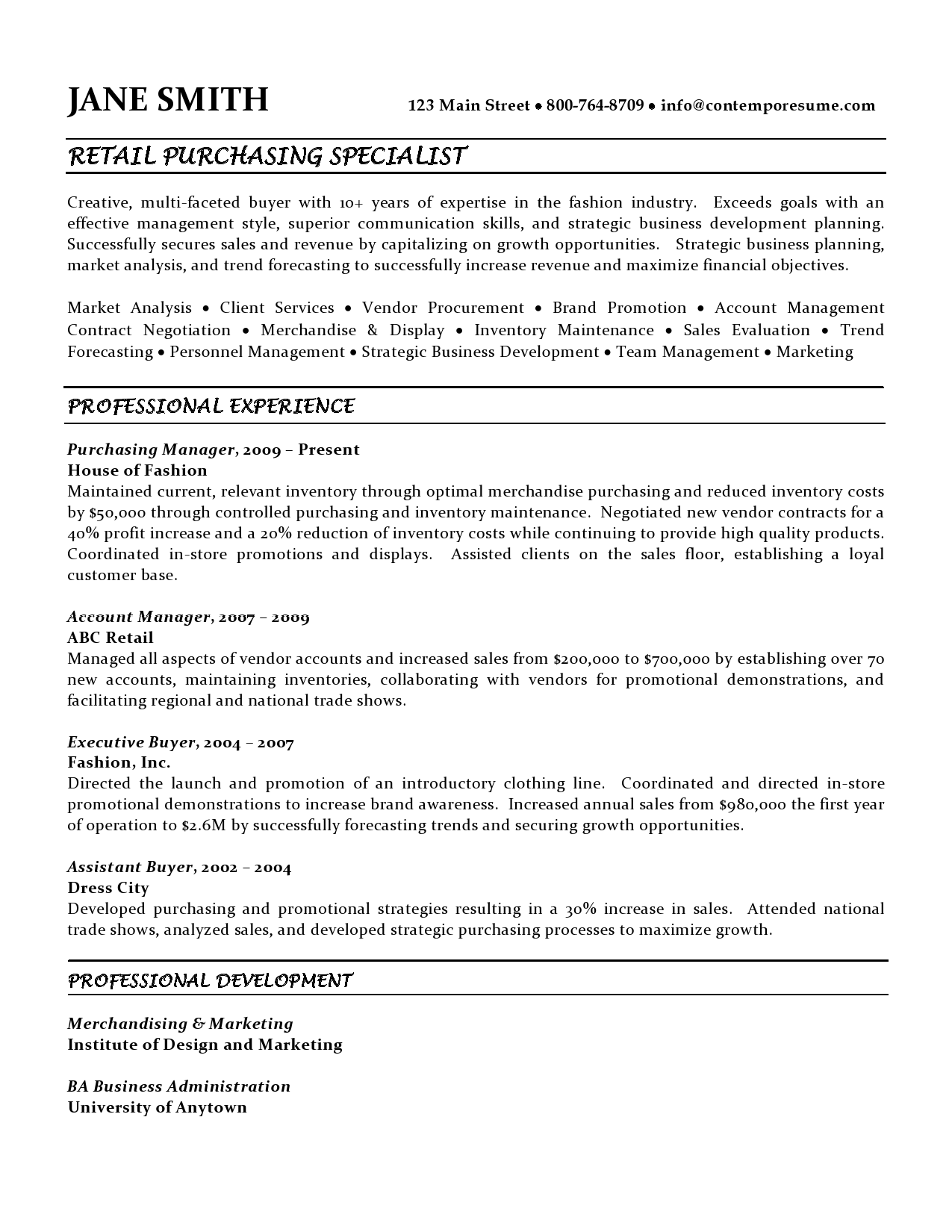 ---
Text Version of the
Purchasing Specialist Resume Sample

---
 JANE SMITH
123 Main Street • 800-764-8709 • [email protected]
RETAIL PURCHASING SPECIALIST
Creative, multi-faceted buyer with 10+ years of expertise in the fashion industry. Exceeds goals with an effective management style, superior communication skills, and strategic business development planning. Successfully secures sales and revenue by capitalizing on growth opportunities. Strategic business planning, market analysis, and trend forecasting to successfully increase revenue and maximize financial objectives.
Market Analysis • Client Services • Vendor Procurement • Brand Promotion • Account Management Contract Negotiation • Merchandise & Display • Inventory Maintenance • Sales Evaluation • Trend Forecasting • Personnel Management • Strategic Business Development • Team Management • Marketing
PROFESSIONAL EXPERIENCE
Purchasing Manager, 2009 – Present
House of Fashion
Maintained current, relevant inventory through optimal merchandise purchasing and reduced inventory costs by $50,000 through controlled purchasing and inventory maintenance. Negotiated new vendor contracts for a 40% profit increase and a 20% reduction of inventory costs while continuing to provide high quality products. Coordinated in-store promotions and displays. Assisted clients on the sales floor, establishing a loyal customer base.
Account Manager, 2007 – 2009
ABC Retail
Managed all aspects of vendor accounts and increased sales from $200,000 to $700,000 by establishing over 70 new accounts, maintaining inventories, collaborating with vendors for promotional demonstrations, and facilitating regional and national trade shows.
Executive Buyer, 2004 – 2007
Fashion, Inc.
Directed the launch and promotion of an introductory clothing line. Coordinated and directed in-store promotional demonstrations to increase brand awareness. Increased annual sales from $980,000 the first year of operation to $2.6M by successfully forecasting trends and securing growth opportunities.
Assistant Buyer, 2002 – 2004
Dress City
Developed purchasing and promotional strategies resulting in a 30% increase in sales. Attended national trade shows, analyzed sales, and developed strategic purchasing processes to maximize growth.
PROFESSIONAL DEVELOPMENT
Merchandising & Marketing
Institute of Design and Marketing
BA Business Administration
University of Anytown
---