by Megan Koehler (ContempoResume)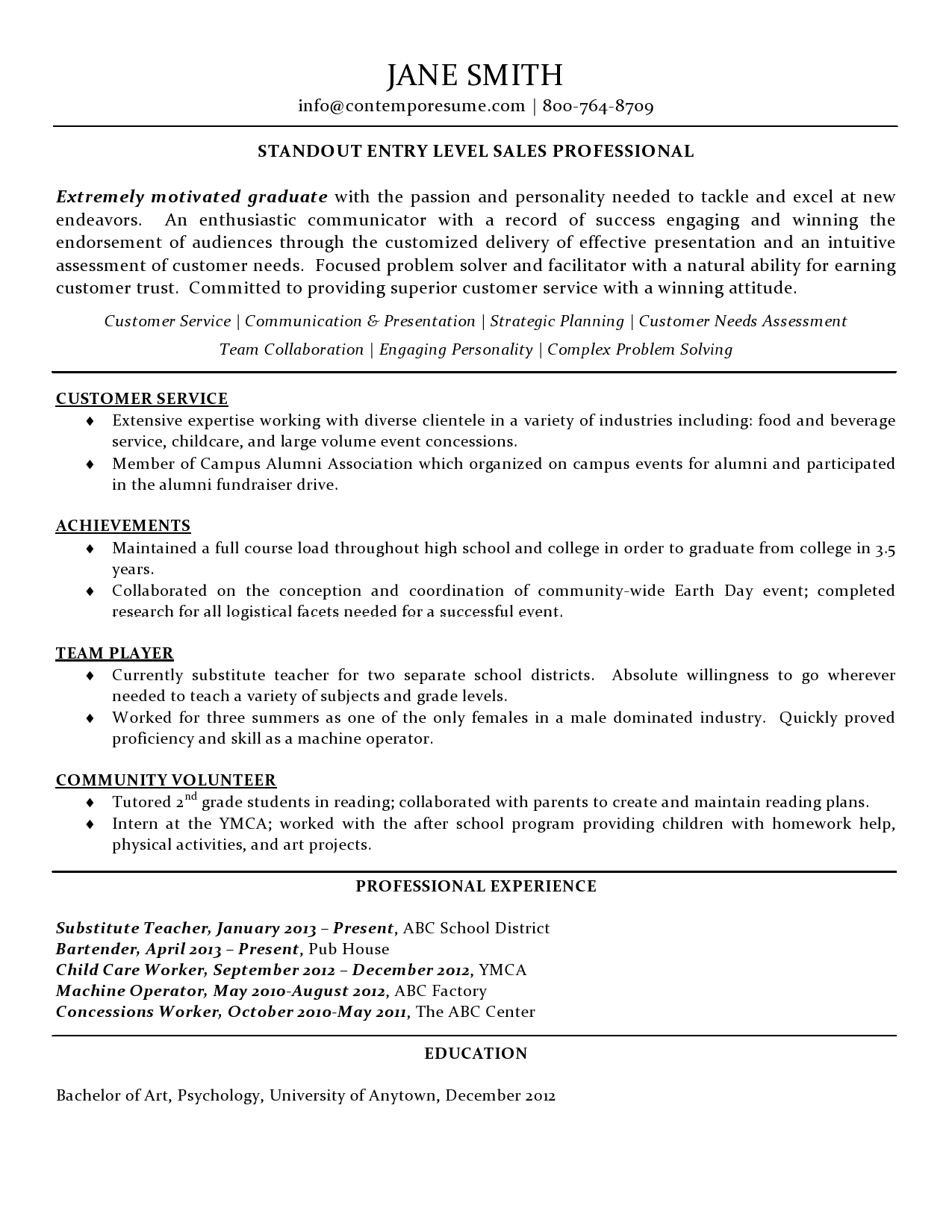 ---
Text Version of the
Sales Professional Resume Sample

---
JANE SMITH
[email protected] | 800-764-8709
STANDOUT ENTRY LEVEL SALES PROFESSIONAL
Extremely motivated graduate with the passion and personality needed to tackle and excel at new endeavors. An enthusiastic communicator with a record of success engaging and winning the endorsement of audiences through the customized delivery of effective presentation and an intuitive assessment of customer needs. Focused problem solver and facilitator with a natural ability for earning customer trust. Committed to providing superior customer service with a winning attitude.
Customer Service | Communication & Presentation | Strategic Planning | Customer Needs Assessment | Team Collaboration | Engaging Personality | Complex Problem Solving
CUSTOMER SERVICE
Extensive expertise working with diverse clientele in a variety of industries including: food and beverage service, childcare, and large volume event concessions.
Member of Campus Alumni Association which organized on campus events for alumni and participated in the alumni fundraiser drive.
ACHIEVEMENTS
Maintained a full course load throughout high school and college in order to graduate from college in 3.5 years.
Collaborated on the conception and coordination of community-wide Earth Day event; completed research for all logistical facets needed for a successful event.
TEAM PLAYER
Currently substitute teacher for two separate school districts. Absolute willingness to go wherever needed to teach a variety of subjects and grade levels.
Worked for three summers as one of the only females in a male dominated industry. Quickly proved proficiency and skill as a machine operator.
COMMUNITY VOLUNTEER
Tutored 2nd grade students in reading; collaborated with parents to create and maintain reading plans.
Intern at the YMCA; worked with the after school program providing children with homework help, physical activities, and art projects.
PROFESSIONAL EXPERIENCE
Substitute Teacher, January 2013 – Present, ABC School District
Bartender, April 2013 – Present, Pub House
Child Care Worker, September 2012 – December 2012, YMCA
Machine Operator, May 2010 – August 2012, ABC Factory
Concessions Worker, October 2010 – May 2011, The ABC Center
EDUCATION
Bachelor of Art, Psychology, University of Anytown, December 2012
---