by Megan Koehler (ContempoResume)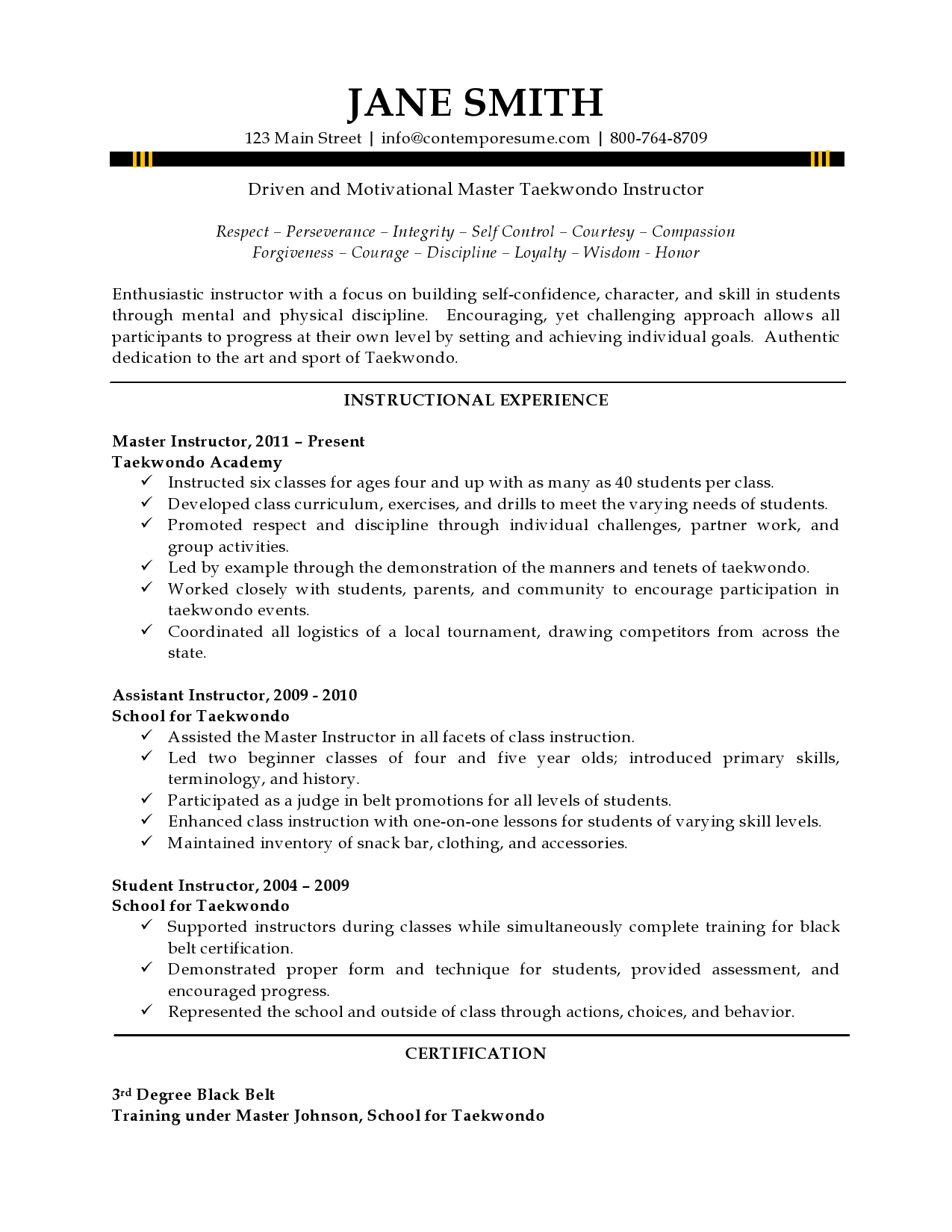 ---
Text Version of the
Taekwondo Instructor Resume Sample

---
JANE SMITH
123 Main Street | [email protected] | 800-764-8709
Driven and Motivational Master Taekwondo Instructor
Respect – Perseverance – Integrity – Self Control – Courtesy – Compassion
Forgiveness – Courage – Discipline – Loyalty – Wisdom – Honor
Enthusiastic instructor with a focus on building self-confidence, character, and skill in students through mental and physical discipline. Encouraging, yet challenging approach allows all participants to progress at their own level by setting and achieving individual goals. Authentic dedication to the art and sport of Taekwondo.
INSTRUCTIONAL EXPERIENCE
Master Instructor, 2011 – Present
Taekwondo Academy
Instructed six classes for ages four and up with as many as 40 students per class.
Developed class curriculum, exercises, and drills to meet the varying needs of students.
Promoted respect and discipline through individual challenges, partner work, and group activities.
Led by example through the demonstration of the manners and tenets of taekwondo.
Worked closely with students, parents, and community to encourage participation in taekwondo events.
Coordinated all logistics of a local tournament, drawing competitors from across the state.
Assistant Instructor, 2009 – 2010
School for Taekwondo
Assisted the Master Instructor in all facets of class instruction.
Led two beginner classes of four and five year olds; introduced primary skills, terminology, and history.
Participated as a judge in belt promotions for all levels of students.
Enhanced class instruction with one-on-one lessons for students of varying skill levels.
Maintained inventory of snack bar, clothing, and accessories.
Student Instructor, 2004 – 2009
School for Taekwondo
Supported instructors during classes while simultaneously complete training for black belt certification.
Demonstrated proper form and technique for students, provided assessment, and encouraged progress.
Represented the school and outside of class through actions, choices, and behavior.
CERTIFICATION
3rd Degree Black Belt
Training under Master Johnson, School for Taekwondo
---