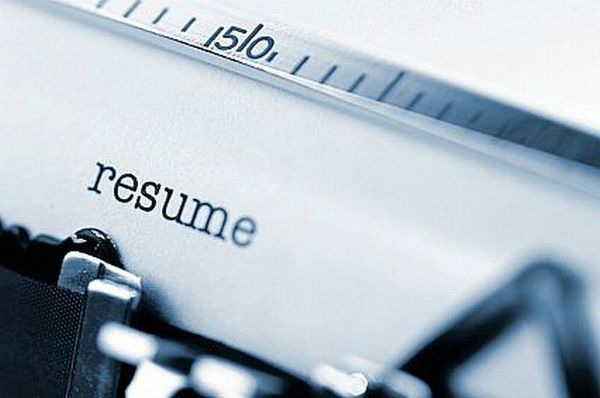 Below is a basic resume template that describes the main sections of a resume. Each section of a resume plays a specific role. As you write your resume, it is useful to understand the role that each section plays. It is also important to have an appreciation of what you can include and how you can convey the information as effectively as possible.
To go beyond the resume template below, we refer you to the following sections:
All Resume Templates Start With the Contact Information Section – Resume Template "Must"
Typically, the contact information section is placed at the top of the first page of the resume. You can use the "header" function of your word processor to show the same header on all the pages of your resume (create a basic resume template).
The contact information section should include:
Your address. If you have two addresses, make sure to mention which one refers to where you live currently and which one refers to your mailing address. Some people choose not to mention their address — it's up to you.
Your phone number. Stick to your home phone number and make sure that your voicemail is properly set up. It is not recommended that you write down your work phone number. You should not be answering calls related to your job search while at work.
Your mobile phone number. If you are not often home or come home late, you may feel the need to include your mobile phone number on your resume. However, that may not be a good idea because the employer or recruiter may call you at the wrong time. What if you are on the bus, at the restaurant or walking outside? You don't want to sound unprofessional or ask the person who's calling to call you back… because you don't have your agenda handy to schedule a meeting. Not answering an employer or a recruiter's phone call is not an issue. As long as you record a professional voicemail message, that should do the trick. This way you will be in control of the situation as you will be able to choose the right time to call them back and will have all the things that you need with you.
Your email address. Make sure to use a professional email address. Email addresses such as "[email protected]" do not make the cut. If you need to create a new email account for your job search, go ahead. Choose something like "[email protected]".
Your blog, personal website URL or LinkedIn account. If you maintain any of these, you can also mention them as part of the contact information section. Make sure however to remove all that may project a bad impression.
A Title Helps Add Focus to Your Resume – Resume Template "Recommended"
Title refers to the title of the position you are seeking or the title that you feel best represents your candidacy, so long as it also fits within what the recruiter is looking for. The title should be right after the header of the resume and should be in bigger font. It should be the first thing that the recruiter notices when he or she looks at your resume. In addition to putting it in bigger font, most resume writers will also bold and underline the title.
Once you have chosen the right title for your resume, you can also add a small extra to it like a list of your areas of expertise, a quote or a one-line "pitch". This additional information should be written in smaller font right below the title. Look at the resume templates on the Web and see what others have done.
The Objective Statement No Longer Belongs on a Resume
The objective statement used to be a section often seen on resumes. Candidates would state what their objective was. The rule was to state what their objective was in function of the needs of the employer. That was easier said than done. Most people ended up writing what their objective was in function of their own needs. Those that wrote the objective statement in function of the employer's needs often made the mistake of not really knowing the employer's needs, therefore emphasizing the wrong thing.
The objective statement became redundant and most professional resume writers now recommend against including an "objective" section. Instead, the objective section has been replaced by two sections: the "title" of the position and the "summary of qualifications". This is the new standard. If you see a resume template with an objective statement, feel free to disregard it.
The Summary of Qualifications: Your Chance to Make an Impact – Resume Template "Must"
The summary of qualifications section is arguably the most important section in a resume. It is positioned in the top half of the first page of the resume and is the one thing that employers will read first. The summary of qualifications is meant to give an overview of the applicant's experience and credentials. The summary of qualifications cannot be written in the abstract however, but needs to refer to the specific requirements of the position you are applying to.
Before writing the summary of qualifications, you need to have a clear idea of what the employer wants in a candidate. What would be the ideal candidate for this employer? From there you simply need to connect the skills that you can bring to the position. Again, the summary of qualifications section does not mean a summary of all your qualifications. It is a summary of your qualifications as relevant to the specific job you are applying to. Relevance is an unwritten rule that applies to all the sections of a resume.
A variable that many professional resume writers like to add to the summary of qualifications is a list of relevant skills at the end of the paragraph. The paragraph would end with "Other skills include: …" and you have here a list of additional skills using bullet points, typically listed in a two or three-column table. The skills can include areas of specialization, languages spoken, computer programs with which you are familiar, specific certifications, etc.
If You Have Accomplishments, Highlight Them
The accomplishments section can be used to highlight things that you have done in your career that you believe deserve special consideration. Normally, this section is only used by people with many years of experience or at the executive level. If you have only one accomplishment, there is no need to have a separate section for this. You can mention the accomplishment in your summary of qualifications and provide more details under the work experience section.
The accomplishments section should be under a separate heading and normally lists the accomplishments using bullet points. It should have at least 2 distinct accomplishments, preferably three or more. This section normally goes right after the summary of qualifications and before the work experience. Some professional resume writers like to put the accomplishments section in a frame to highlight it.
The Work Experience Section, Make it Count – Resume Template "Must"
The work experience section of a resume is the section that normally takes the most space, and for good cause. It is where you, as a candidate, need to show the employer that, through your experience, you possess the necessary qualifications to take on the job that needs to be filled.
Typically, the work experience section is broken down by employer. The name of the employer, the title of the position, the location of the employment and the years of employment are mentioned in the subheading. Following this subheading, how you structure the rest is up to you. Following are few suggestions based on what has been done:
You can write one sentence that will describe the employer. This is useful if the employer is a small business that is not well known. This will give context to your work description to follow.
You can then have a list of bullets describing your responsibilities and accomplishments.
The Relative Importance of Your Education – Resume Template "Must"
The education section of a resume either follows the work experience section or goes right before it. It depends on whether you have relevant work experience or whether you are a new graduate. Think of it this way: When you write a resume, you want to structure your resume to put the most relevant information first.
When you have a few years of experience, that experience will normally supersede your education in terms of relevance. That's why you should put the work experience section before the education section, unless you have good reasons not to do so. If you are a new graduate and have no relevant experience, then the most relevant thing is your education. Even if you spent a summer or a year working part-time in a job directly related to your field of study, your education should still go first. Three or four years of education supersede a part-time or summer internship.
Most resume writers put the name of the school first, followed by the city where it is located and then the state. On the second line you should put the name of the program and the year of graduation. If you have not yet graduated, you can put something like "Expected graduation date: June 2014". Depending on whether you attended a renowned university, you may want to bold the name of the university and the name of the program you were in, or simply the name of the program. If you participated in relevant activities, COOP terms or enrolled in special courses, you can also mention this information in the education section. This information is more relevant if you are a recent graduate. You need not include this information if you are an experienced applicant.
Add Credibility With Professional Affiliations
If you are a professional or occupy a management position, it is important to include in your resume a section called "Professional Affiliations".
What should you include? Essentially, you should list the name of the association and your status (whether you are a member, are part of a committee or occupy a specific role within the organization). If you are member of multiple associations, list them using bullet points. If you are a professional and being a member is a requirement for practicing your profession, write the name of the society followed by your year of admission.
Computer Skills, to Make You Look Current
The computer skills section is where you list your knowledge of computer software, etc. Most people do so by enumerating the computer programs with which they are familiar using commas or bullet points. This basic way of presenting your computer skills is fine for most people. However, if you want to take it a notch further, you can also qualify your level of proficiency. Generally, you would only do so if it is to your advantage, like if you are expert with the program. For instance, many analyst jobs require that you use Excel and PowerPoint on a regular basis. It is a definitive advantage to be expert with these two programs. You can state something like "Expert in Excel and PowerPoint".
Computer skills may also be relevant for people in technical fields such as Information Technology (IT), Programming, etc. If you belong to one of these professions, you may want to put the computer skills section higher up in your resume to give it more exposure. Another thing that you can do is to use another title for the section, like Technical Skills, Technical Certifications, etc.
More
We added a miscellaneous section because each resume is unique. Depending on your background, qualifications or industry, you may want to add something extra to your resume. For example, if you speak many languages, you can list them and include your level of proficiency. However, keep the information that you include in this section professional. There is no need to mention your hobbies.
Resume Templates Are Meant to be Customized
A resume template is meant to be somewhat generic. It is for you to customize it according to your circumstances. Don't be afraid to do so. For examples on what others have done, see our resume samples.