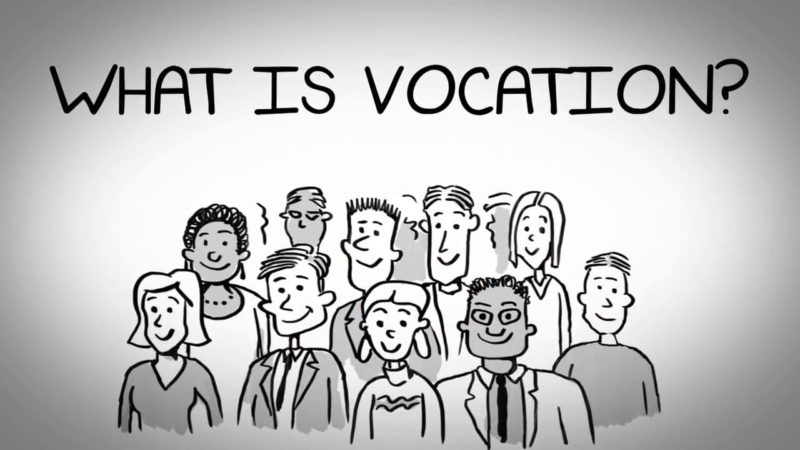 How much more often do we hear the word "career" instead of "vocation"? Why is that? While a career holds its own importance—the most obvious is earning an income—a person's vocation evokes inmost gifts, abilities, passions, dreams and broader life purpose. So, what exactly is a vocation? The Latin root word—"vocationem"— means "a calling". Vocation is an occupation that someone feels strongly about doing, despite monetary gain or other influences. Therefore, everyone's vocation should be what they feel compelled to do because it gives a deeper meaning to life as well as added meaning within us. Your true vocation will characterize how you operate in general.
For example, someone may currently have a career in finance, while his or her vocation remains teaching and going on various adventures. Some people may think, "Well, wouldn't we all like to go on adventures and be able to teach in some capacity?" While that may be true on the surface, our vocation should be a calling that we discover after truly finding ourselves. Not everyone will find himself or herself; only those who truly want to know and seek the answers with every ounce of their being. Desiring a deeper purpose in life typically fuels this type of self-seeking and awareness. A vocation is a lifelong journey that we either accept or reject over time. We must find patterns in our lives that we are drawn to, enjoy, energized by and that motivate us to dig deeper.
Reading my other article "How to Discover Your True Passion", posted June 18, 2012, may help you begin to find the patterns which may lead you to your vocation. Furthermore, respond to the following questions in order to brainstorm ideas regarding your vocation:
Which passions and talents have you noticed in your life ever since you were a child? Even if you do not actually pursue them now, take a few minutes to reflect back when you did or thought about it. Why do you enjoy these activities so much? What do they really mean to you?
How can you make a difference? It's easy to cop out and say that you donate to Feed the Nations. While that is awesome and a worthy cause, the simple act of donating money toward someone else's vocation should not be the only way you give back. What can you do that will make a difference in someone's life as you use your own gifts and abilities?
Who have you become over the years? Ten years ago you probably thought very different of yourself than you do now, similar to five years, and only even a year ago. Our experiences, thoughts, hopes and dreams influence us greatly. It is best to fully assess who you are currently, even if you do not particularly like it. You need to realize that only you have the power to stop doing the things that bring you down and start exercising the interests and activities that makes your heart sing.
How do you contribute to issues and people? Do you find a pattern over the years? For example, I naturally debate and utilize diplomatic influence when I feel strongly about an issue, whether I am speaking to one person or a whole group.
Also, I have operated as a counselor and confidant to many friends in my lifetime, as I can be a good listener and help guide conversation in a meaningful way. There are different ways to respond to this question, so you need to evaluate personal patterns over a substantial amount of time.
Keep in mind that your vocation does not have to match your career and visa versa. However, it is optimal to earn an income by actively pursuing your vocation. Nevertheless, try using this transition the next time someone asks you what your job or career path is: "Actually, would you mind if I told you more about my vocation instead?"
This shift will no doubt spawn further meaningful conversation as you continue to pinpoint your true vocation and differentiate what that versus career means to you.

by Crystal Gettings